RITES OF PASSAGE / IMAGICA PICTURES

SACRED TEACHINGS / FILMS FOR A NEW EARTH
Home About Us Store Other Work Contact Us


Posters and Prints
Copyright © 2009-2010 Rites of Passage - All Rights Reserved

Home
About Us
Store
Other Work
Contact Us

"THE AWAKENING"
A painting depicting the Seven Sacred Teachings was done by
renowned Taos Pueblo artist, Jonathan Warm Day The painting
has been made into a 11x17 poster with this phrase
underneath. Signed by the artist.
"The Awakening" poster comes framed in a very simple but
attractive plastic frame. Because of the difficulty in mailing
posters, framing them seemed to be the best way to protect
them during shipping.
$35.00 + shipping
Our belief system has evolved over thousands of years, now to be shared with the rest of the world. In a
most humble way, in a most loving way, in a most respectful way, in a most honest way, we have come to
share these teachings with the world because in our hearts we believe that if we do not share this then we
stand to lose all that has been created for us.
--Dave Corchene/ Neeghani Aki Innini (Leading Earth Man)
First Nations Elder Anishnabe Nation Eagle Clan
http://www.theturtlelodge.org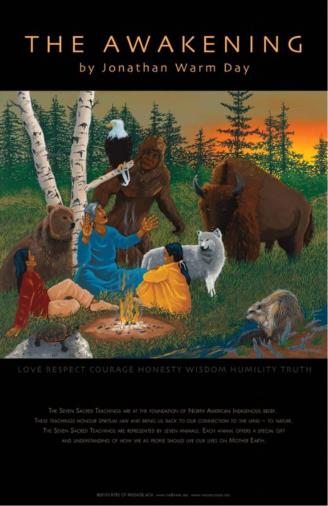 Seven Sacred Teaching Animal Prints
Painted by renowned Taos Pueblo artist, Jonathan Warm
Day with corresponding teaching underneath the image,
are available shrink-wrapped and ready for framing in an
8-1/2" x 11" format. $10.00 + shipping
Description on Poster
(Click image for larger view.)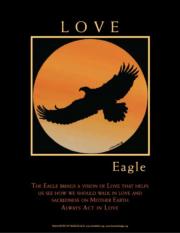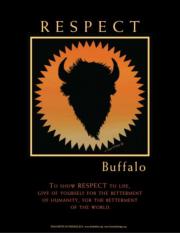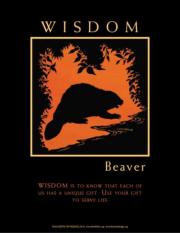 Descriptions of Teachings
(Click images for larger view.)
EAGLE - LOVE
The Eagle brings a vision of Love that helps us see
how we should walk in love and sacredness on
Mother Earth. Always Act in Love.
BUFFALO - RESPECT
To show RESPECT to life, give of yourself for the
betterment of humanity, for the betterment
of the world.
BEAR - COURAGE
Listen to your heart and your spirit even when your
mind is telling you something else. It takes
COURAGE to do what is right.
BIGFOOT - HONESTY
Speak from your heart. Be HONEST with yourself
and with others. Be true to your word.
BEAVER - WISDOM
WISDOM is to know that each of us has a unique
gift. Use your gift to serve life.
WOLF - HUMILITY
To be HUMBLE is to see us equally in the eyes of
the great spirit. His love is expressed to all of us in
the same way. The sun does not shine on any one
person alone or any one race of people. It shines on
all.
TURTLE - TRUTH
Living the TRUTH is living the seven teachings:
Love, Respect, Courage, Honesty, Wisdom, Humility
and TRUTH.
The Seven Sacred Teachings are at the foundation of North
American Indigenous belief. These teachings honour spiritual
law and bring us back to our connection to the land - to nature.
The Seven Sacred Teachings are represented by seven animals.
Each Animal offers a special gift and understanding of how we as
a people should live our lives on Mother Earth.
LOVE RESPECT COURAGE HONESTY WISDOM HUMILITY TRUTH
Store

|

DVD's and CD's

|

T-Shirts and Hoodies

|

Jewelry

| Posters and Prints
Single Posters
Complete Set