RITES OF PASSAGE / IMAGICA PICTURES

SACRED TEACHINGS / FILMS FOR A NEW EARTH
Home About Us Store Other Work Contact Us


DVD's and CD's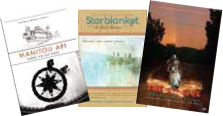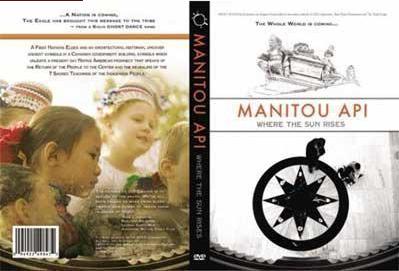 MANITOU API - WHERE THE SUN RISES
DVD
A First Nations Elder and an architectural historian together,
uncover ancient symbols in a Canadian government building,
symbols that validate a present day Native American prophecy
that speaks of the Return of the People to the Center and the
revealing of the 7 Sacred Teachings of the Indigenous People.
The return to the Center is to return to the heart. We¹ve all been
called to wake from sleep to feel our power to dream again---a
dream of peace.
--Elder Dave Courchene
[Neeghani Aki Innin Leading Earth Man]
Anishnabe Nation, Eagle Clan
An Imagica Pictures Film in association with the SOAR
Corporation and Blue Planet Productions
All music courtesy of the SOAR Corporation
Copyright 2009 Cindy and Andy Pickard for Imagica Pictures
More about this film
BUY NOW

They will come to a fork in the road. One road will lead to
Materialism and Destruction... for almost all living
creatures... The other road will lead to a Spiritual Way
upon which the Native People will be standing... This path
will lead to the lighting of the 8th fire, a period of eternal
peace, harmony and a "New Earth" where the destruction
of the past will be healed.
- Anishnabe prophecy
THE 8TH FIRE
DVD
More about this film
BUY NOW

STARBLANKET - A SPIRIT JOURNEY
DVD and Companion CD
At the age of 24, Noel Starblanket was one of the
youngest First Nations chiefs in North America. At the age
of 29, he became chief of all Canadian Indians when he
was elected president of the National Indian Brotherhood
[now referred to as The Assembly of First Nations].
Outspoken, rebellious and sometimes outrageous, he
was the subject of the 1973 National Film Board of
Canada production titled simply, Starblanket. Now three
and a half decades later, he shares with humor, honesty
and emotion, his own healing journey and as he finds
peace in returning to the teachings of the Elders, a
greater appreciation of life through loss, and renewed
hope for the future with the emerging Seventh
Generation, his journey becomes the viewer's as well.
Through the universal language of image, music and
emotion, Starblanket: A Spirit Journey brings to light in a
very personal way, the ancient teachings and the
extraordinary wisdom of the First Nations people while
offering a much-needed message for our time.
More about this film
BUY NOW
Store

| DVD's and CD's |

T-Shirts and Hoodies

|

Jewelry

|

Posters and Prints
Copyright © 2009-2010 Rites of Passage - All Rights Reserved

Home
About Us
Store
Other Work
Contact Us